Dolhof's Hardware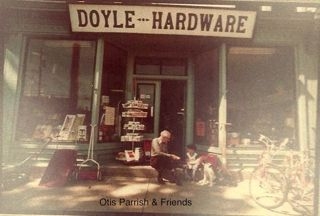 In 2006, Utica, New York was dealing with the sad departing of one of its favorite businesses: Doyle Hardware. This sad ordeal marked the end of a legacy that began in Constableville in 1872 by James Doyle and Terry Gormley. After Gormely's death in 1878, John Doyle joined his brother to manage the firm. A third brother, Thomas Doyle joined his brothers in 1880, and the three changed the name of the firm from Doyle Hardware to Doyle Brothers.
The store sold goods that included everything from paints and oils to drugs and medications to liquors and wines to stoves and other appliances, such as machines for farming. They also sold sleds, skis, skates, toboggans, sinks, irons, and other goods.

In 1899, the brothers decided to open a branch of their store in Lyons Falls. At this time, Lyons Falls was booming with business, thanks to the new local business enterprise, Gould Paper Co. The Lyons Falls branch was the center of business for many years.
In 1901, James Doyle's son, Frank, joined the firm. He urged his uncles and father to expand the variety of merchandise being sold in the store to encourage new customers to become part of the hardware business's clientele. Not long after this, the firm took over the hardware business established by Lewis Riggs in Port Leyden.
In 1923, the last of the original Doyle brothers passed away, leaving the business to Frank Doyle. He changed the name back to Doyle Hardware and opened more branches throughout New York. In 1943, James T. Doyle became a partner of Doyle Hardware. At this time, the company had its main offices in Utica, New York. At its peak, the firm had stores in Utica, Newport, Dolgeville, Lyons Falls, Constableville, Port Leyden, Richfield Springs, Norwich, Fort Plain, and Cazenovia.
But sadly, the prosperity of Doyle Hardware began to dwindle. The last store of the once prosperous Hardware chain was located in Utica. As for the branch in Lyons Falls, in 1976, Larry Dolhof and his parents bought the business. They changed the name to Dolhof and, in the early 1980s, Larry Dolhof bought out his parents for full ownership of the store. At this time, Larry was only in his thirties. Now, Larry has ten employees and loves the store. He says that owning a business in Lyons Falls is great because it is in his hometown, the residents are very supportive of him and his business, and in return, he loves being an active member in the community. And although Doyle Hardware is no more, Lyons Falls is fortunate to have such a great business in its place.